To get in contact with Savannah Roberts for press, please email management@savannahroberts.co.uk
RGM RECOMMENDS – THE SINGLES
Savannah Roberts - 'Lemon & Honey'
London-based songwriter Savannah Roberts paints a picture in delicate shades of folk with this, the title track from her debut album. The album as a whole is high-concept; each track recounts a different aspect of growing up, and the record is accompanied by a 'visual album' version.
Despite the imaginative context in which it was formed, this song stands up on its own merits. Melodically wistful, the lyrics concern love and parenthood; the combination is as bittersweet as the song's title suggests. Subtle musical touches add depth to the otherwise simple soundscape, as key chimes echo the vocal melody and harmonies glide around the edges. Finally, a twinkly dreampop outro rises out of the song's delicate coda, giving a hint as to what the rest of this ambitious album has to offer. Certainly a pleasant and rewarding listen, courtesy of a young artist with a wealth of creativity.
Savannah Roberts has crafted nostalgic lyrics for her debut album 'Lemon & Honey'
by Boulent Mustafa - 17/12/20
22 year old Savannah Roberts is an indie-folk musician, who resides in London since the completion of her music degree. She is originally from a seaside town in South Devon and her roots provide ongoing inspiration for her music. Savannah just released her debut album 'Lemon & Honey', which covers themes of nostalgia and growing up.
The project was written, recorded, filmed and edited by Savannah and her team completely remotely during the first lockdown. The album features 11 enchanting tracks as she narrates over stand out memories from her childhood, which are accompanied by home movies as gentle instrumentals play in the background.
Savannah has used these wonderful memories in order to craft lyrics that leave the audience feeling nostalgic for their own memories of growing up and the pleasant melodies radiate towards our ears.
It is hard to choose a favourite as all the songs shine with the same sentiment towards yesteryear, however Savannah delivers that little bit more towards the end of the album. Rosy glistens with its heartfelt verses and the vocal harmonies are sublime. Dear Class of 2020 continues with the same beautiful harmonization whilst also treating us to the tender sound of the guitar. Carousel stirs with the haunting melody emanating from the stringed instruments.
Read the full article here
​​​​​​​
Barstool Music UK Podcast
Episode 31 - Interview with Savannah Roberts
This week Luke catches up with tow very talented songwriters in the form of Savannah Roberts and Sianon. They discuss their new releases and their approaches to developing their own music. We also hear 10 incredible tracks form some of the best Unsigned and Independent artists from across the UK! Luke also announces some other new releases from Barstool Music. So tune in, turn it up, and once again enjoy some new music on us!
Watch Lemon & Honey (Visual Album) by Savannah Roberts
Savannah Roberts – Lemon & Honey Feature
28/12/2020
With Lemon & Honey, indie-folk musician and filmmaker Savannah Roberts has brewed up an audio visual exploration into nostalgia and growing up that is both heady and sweet with sharp hints. The video / album is a remarkable feat of family footage blending with self-filmed elements to build up the enveloping atmosphere.
Savannah Roberts is 22-year-old musician originating from a small seaside town in South Devon. She avidly performed on Devon gigging circuit from the age of 12, featured on Devon Spotlight news for her music at 14 and performed at local festivals and carnivals throughout her teens.
The South West is hugely influential to Savannah's music, most notably the role it played in the composition and filming of her visual album Lemon & Honey that was completed in Teignmouth during lockdown.
The project is nearly entirely based in Devon and Cornwall, influencing the albums reflective lyricism and featuring many of the South West's shores in its visuals.
"As a musician, I had always been drawn to audio-visual projects, my musicianship developed along with my film skills and as an artist, these facets of myself now go hand in hand," Savannah told D&CFilm.
"My debut release and visual album, Lemon & Honey, explores themes of nostalgia, childhood and growing up. The project was written, recorded, filmed and edited by myself remotely in the first lockdown of 2020.
Mid-Devon Advertiser Paper
A Teignbridge singer-songwriter and filmmaker is receiving rave reviews and radio plays following the release of her debut album. Twenty-two year old Savannah Roberts released her visual album Lemon and Honey at the beginning of December, having initially started work on the project as part of her dissertation while completing her BA in music in London.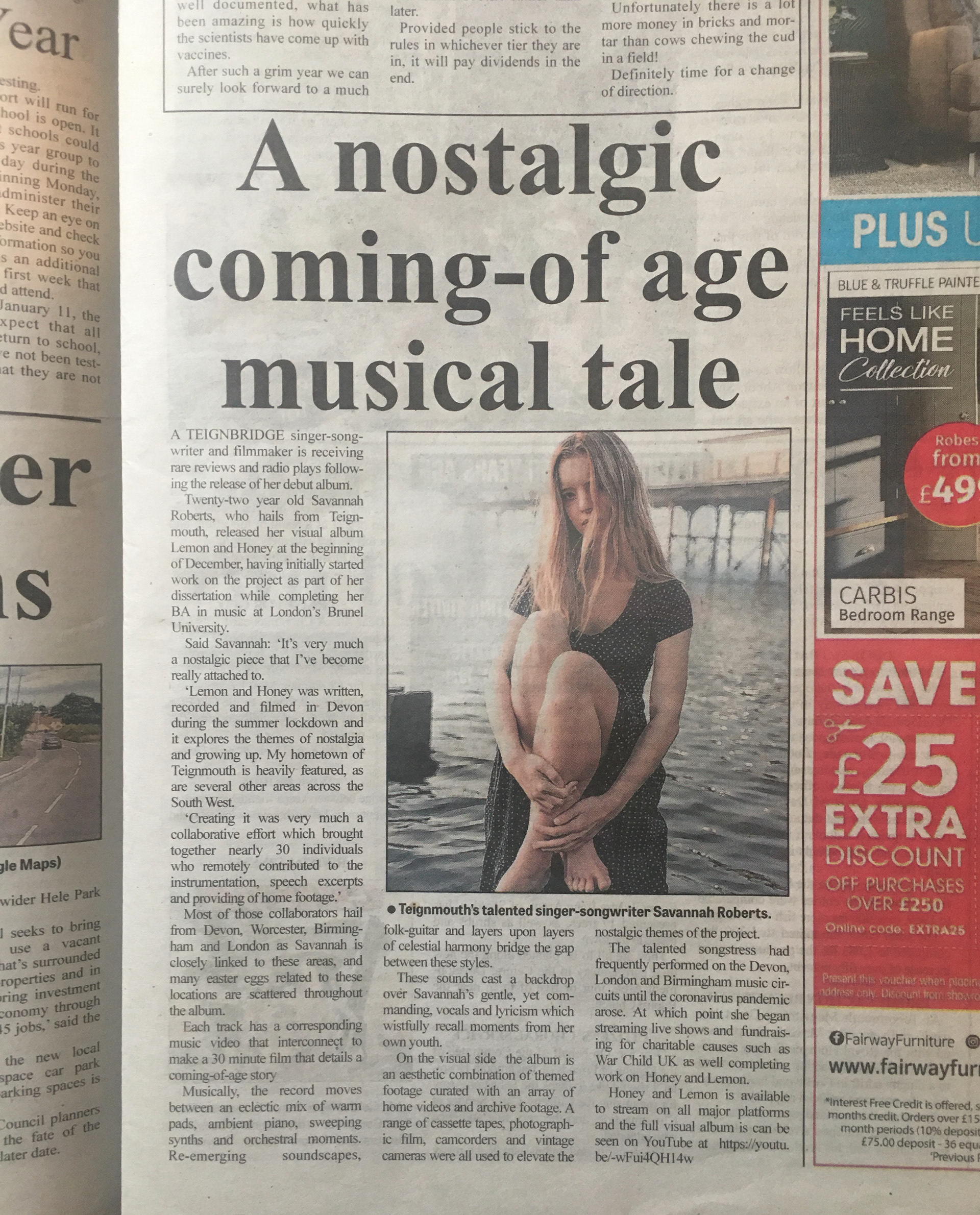 by Hannah Campbell - 15/12/20
Lemon and Honey is the debut album from the wonderful Savannah Roberts.. This concept album 'hinges on the themes of nostalgia and growing up' in her own words; meaning the album is full of relatable, thought-provoking elements for any young listener. Savannah herself, who catalysed her musical journey at aged 11 when she began learning guitar, hopes that her listeners will relate to the nostalgic undertones of the record, which are heavily based on her life and personal experiences as she gigged between Devon, Worcester and London. Now a permanent London resident for the last four years, this record very much marks the beginning, and future origin story, of a rising star in her genre.
That genre may be best described as indie-folk, with some toying of more unique concepts thrown in. The opening track 'These Next Few Minutes', is an example of this. This intriguing and unusual intro combines the sharp sound of screeching seagulls, an undoubted reference to her seaside home of Devon, with various voices speaking as if they are conversing together, whilst being very obvious snippets blended together. Having written and produced the album amidst lockdown, this blend of voices reminds us of the separate togetherness that 2020 has brought upon the world, setting the scene for the melancholic, nostalgic reflection that is to come in the upcoming tracks.
Whilst the songs are strong and beautiful throughout, there are definitely some personal highlights to dive into, that will give us an overall impression of the feeling that this album portrays to first-time listeners like myself. The title track, 'Lemon and Honey', is a great place to start. Savannah's voice, coupled with the gentle acoustic melody, creates an ethereal, calming atmosphere wherever you listen. I may have been on a crowded bus when I first listened, but felt easily transported to a better place – the mark of a captivating track in my eyes. Another highlight of the track is the sudden change of feeling as the outro approaches – the sound of the guitar playing becomes a little heavier, as Savannah guides the song to an end with her voice. A track worthy of being the title.
Another highlight is the short but sweet 'Coloured Cups and Plastic Kitchens', which has a childlike, fun quality, echoing the theme of growing up that Savannah hoped would come through with this record. Echoey, childlike backing vocals, mixed with simple ukulele ensures this theme. The theme of childhood and reflecting on that as an adult continues in the interludes dispersed throughout the record, giving the piece as a whole a more unusual, high-concept structure that ensures that Savannah has not chosen to follow the trends with her approach. In 'Interlude: Nostalgia', we here multiple voices discussing their past and reflecting, with one voice describing how a person goes through 'different versions of yourself' as you grow. It's a contrasting mix between longing for childhood to be back, where things were simpler, and a more positive outlook that appreciates human growth and how important that is as we age.
Structure was evidently important to Savannah, as we see a call back to the intro 'These Next Few Few Minutes', in penultimate track 'These Last Few Minutes'. This track continues the somewhat chaotic but artistic blend of people's voices talking about their experiences with nostalgia, with a particularly poignant end in which we hear a voice discussing how growing older means being unable to 'let go and have fun in your own head', and how that is a 'beautiful thing' that we lose. Though feelings of positivity and negativity around nostalgia may be mixed throughout, this reflection highlights the positivity of childhood, a theme that is present throughout and rightfully begins the record's closing.
This record is a unique and beautiful approach to a well-thought out and well-executed concept. What Savannah hoped to convey through this record is exactly what she has achieved. You do feel nostalgic, you do reflect on childhood and the good and bad that comes along with that – and most strongly, you are transported to her world and her experiences in a way that forms a very personal connection between musician and listener. A wonderful start to a hopefully flourishing future in music.
Savannah Roberts – Lemon & Honey Review
by Matthew Bryan - 09/12/20
Savannah Roberts, a singer-songwriter and indeed visual artist, beautifully captures the passages of childhood with her debut, 'Lemon & Honey'. The release is promoted as a "visual album" whereby video footage both old and new accompany the almost chapter driven sounds.
The album begins with an introductory patchwork of reminisces of childhood. These interludes punctuate the songs throughout the album as they are a direct result of the accompanying film. This accentuates the idea that the images and the audio are part of a whole rather than two separate entities. The video footage really brings out the loveliness of the songs particularly on the nursery rhyme-like 'Coloured Cups & Plastic Kitchens' where the audio quality alters as though you have unearthed a long-lost recording found underneath a pile of toys.
The songs themselves, however, sit perfectly without the accompanying images – they encapsulate the nostalgia in almost sepia-like tones. The centrepiece of the album is without doubt 'Rosy' where Savannah trades sparse, folk-y acoustic guitars for a piano and synthesized strings culminating in intertwining voices as it reaches it crescendo. The aforementioned 'Coloured Cups & Plastic Kitchens' is also a, albeit very short, delight with the ukulele backing sounding like it's played on a plastic-toy guitar.
The obvious reference points for Savannah's style of indie-folk are the likes of Kathryn Williams, Laura Marling and Phoebe Bridgers but her ability to convey the innocence of youth recalls Jack White's playful ability with words. This is a really interesting and vibrant project and although the arrangements and instrumentation are often sparse there's always just enough going on to keep hold of your attention and transport you back to a simpler stage of life.
'Lemon & Honey' is both a visual and auditory success and it will be interesting to see where Savannah goes next.
Savannah Roberts – Lemon & Honey Review
By Chloe Mogg - 02/12/2020
Singer-songwriter, multi instrumentalist and filmmaker Savannah Roberts release her debut album 'Lemon & Honey'. Entirely written, recorded, filmed and edited throughout lockdown, 'Lemon & Honey' features nearly 30 collaborators who remotely contributed to the release. Released digitally yesterday, the album will be released visually on December 8th. Christmas has certainly come earlier this year!
"'Lemon & Honey' explores nostalgia and memory whilst detailing a coming-of-age story. The 7 tracks recount different factors of youth, each period is bookmarked by an interlude indicating the passing of time."
Savannah's most heartfelt release to date, 'Lemon & Honey' is surrounded by orchestral moments, swirling synths, and folk based instrumentation. Savannah's vocals are delicate yet soar throughout every track with ease, and commands your full attention. Lyrically, the album weaves through nostalgia, youth and growing up. A story that sees Savannah's heart on her sleeve, the overall release of 'Lemon & Honey' is mesmerising. Stand out moments on the album come from title track angelic 'Lemon & Honey', jazz inspired 'Bookworm', piano-led 'Rosy', heart-wrenching 'Dear Class of 2020' and spacious album closer 'Carousel'.